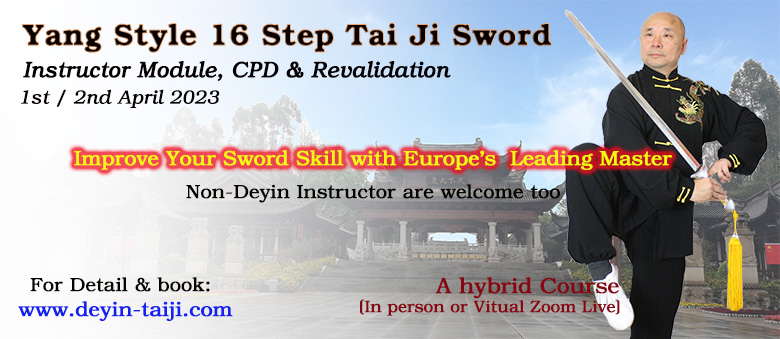 Hybrid format: In Person or Virtually On Zoom
Date: Saturday 1st Apr 2023 (10am - 5pm) (1hr Lunch) and
Sunday 2nd Apr 2023 (9.30am - 2pm) (30 mins meal break)

The 16 Step Yang Style Tai Ji Sword is a fantastic entry-level sword routine for all Tai Chi (Tai Ji) practitioners. it contains some of the essential elements of sword practice. learning this form will help the learner to gain a good understanding of the characteristics, principles, and essence of Yang Style Tai Ji Sword. It is a step up to the level of practitioners on their Tai Chi Journey.
16 Step Tai Ji Sword was created based on the traditional Yang Style Tai Ji Sword, which has now gained wide popularity throughout China and the world.
This sword form consists of the major sword techniques. This weekend, participants will learn the sequence of the form and also the inner essence and characteristics of Yang Style Sword.
Over the years this routine has been taught by various teachers and coaches, through time many enthusiasts learned slightly different versions of the routine and the accuracy and essence of the techniques moved slightly away from the original form. There is a need to encourage the practice of the sword with more accuracy and to a higher standard.
The teaching of the weekend seminar will be conducted by Master Tary, one of Europe's highest authorities on the routine is the direct lineage from the creator. In the last twenty years, Master Tary has worked tirelessly to raise the standard of enthusiasts practising this form.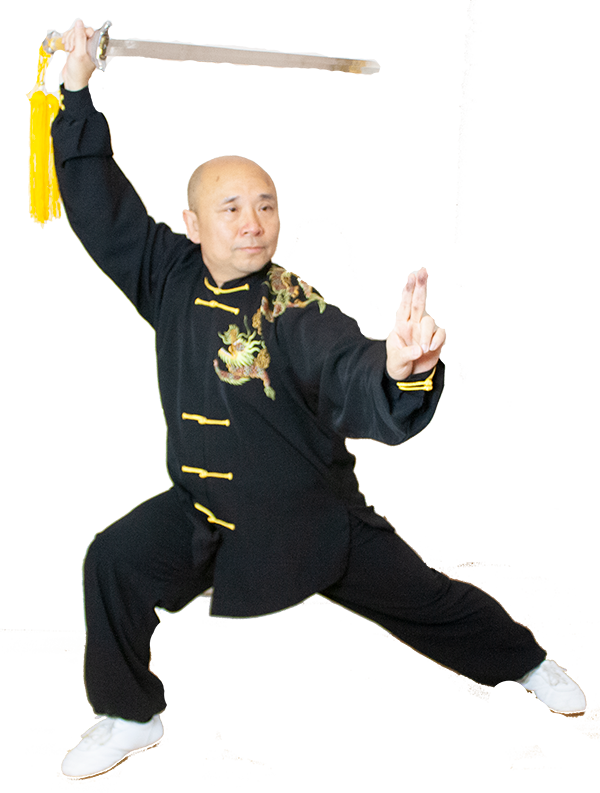 This is, therefore, an exceptional opportunity for enthusiasts to learn directly from the source and improve their standards.
This weekend course is designed as an instructor module, which is suitable for Deyin level 1 instructor who has not yet been certified but would like to get qualified and teach this beautiful form. Qualified Deyin instructors of all levels are welcome to partake this weekend as instructors CPD & Revalidation weekend to update their practice and extend their modular certification for a further 2 years.
Instructors of other styles of Tai Chi interested in learning this lovely short form are welcome to sign up too, but there will be no certification or validation of instructorship to teach this form.
This weekend's seminar will be held as a hybrid course; participants have the option to either take part in person at our headquarters in Telford or join the practice via Zoom live sessions.
Note: Deyin Instructors taking the course as a new module virtually on Zoom need to send in a separate demo of their 16-step sword for assessment and certification (subject to passing the assessment).
Fees:
Deyin Instructor (as a new module): £190.00
Deyin Instructor (CPD & Revalidation): £170.00
Non-Deyin Instructor - £210.00
TF3 3BB
52.675596
-2.429850
Chinese Culture Centre Unit E4, Stafford Park 15 Telford, Shropshire TF3 3BB
info@deyinevents.com
07779 582940
Chinese Culture Centre Unit E4, Stafford Park 15 Telford, Shropshire TF3 3BB
info@deyinevents.com
07779 582940
Registration Form
Yang Style Tai Ji Sword - 16 Step
1st - 2nd April 2023
Please enter your details below, then click 'Continue' to go to the Confirmation page.
Entry titles marked with an asterisk * are required.
---
---